Creating a professional logo can be the difference when it comes to promoting your brand, but with so many AI Logo Makers available, it might not be easy to choose one. This blog post will help you pick the best option for yourself by giving an overview of various top-notch AI Logos Generators that let you make logos in just a few clicks.
Searching for a top-notch AI logo creator can be daunting, as each offers its own range of benefits and possibilities. To assist you in making an informed decision, we have put together this list of the best artificial intelligence logo makers on the market. Each tool has something exclusive to bring to your company's brand identity design – from helpful guided creation processes or maximum customization alternatives – allowing you to find precisely what is perfect for your business needs.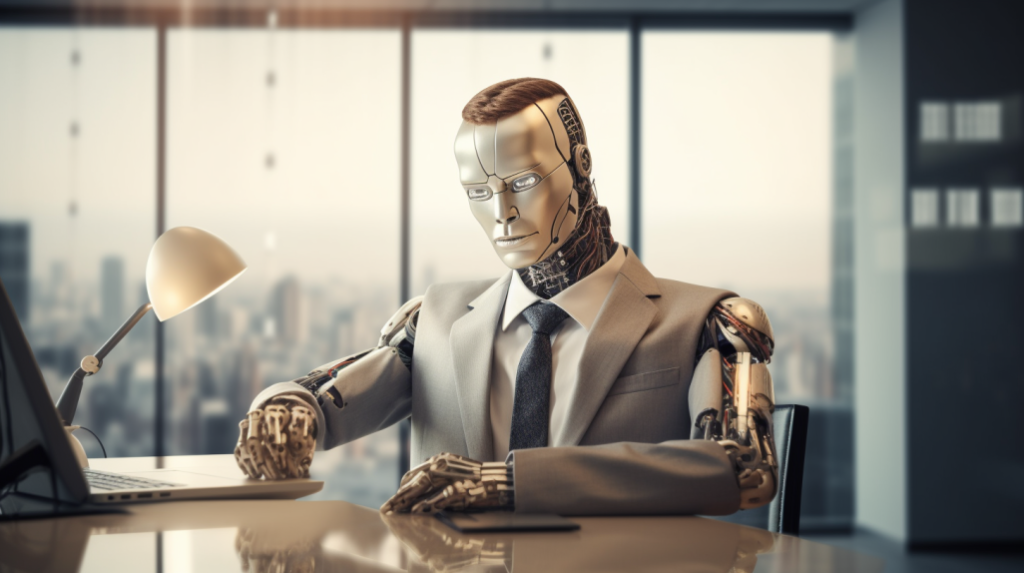 Looka Logo Maker: Best for Guided Logo Creation
Looka Logo Maker is an AI-powered platform that allows you to create professional logos with ease. It offers a guided logo creation process, so users can benefit from artificial intelligence technology when selecting logo styles, colors, and symbols. On top of this, it also provides custom logo designs tailored to the user's industry preferences – making creating stunning visuals for your brand easier than ever before!
With over 20 million small businesses trusting Looka's services already, its free AI Logo Generator feature takes out all risk when trying out new ideas – only needing to pay once 100% happy with results achieved through its editor toolset, too! When finished using advanced branding resources like business cards and social media templates, make sure any high-resolution PNG files are ready instantly. Perfect for displaying logos on any online platform without issues.
DesignEVO: Best for Customization Options
DesignEVO is a great choice for those looking to craft unique logos, offering an AI-assisted design studio with vast customization options. With over one million icons and 100+ fonts accessible in the library, users can quickly create their logo without compromising on quality or style. The platform provides extensive features such as changing colors, layout edits, and customizing font selection.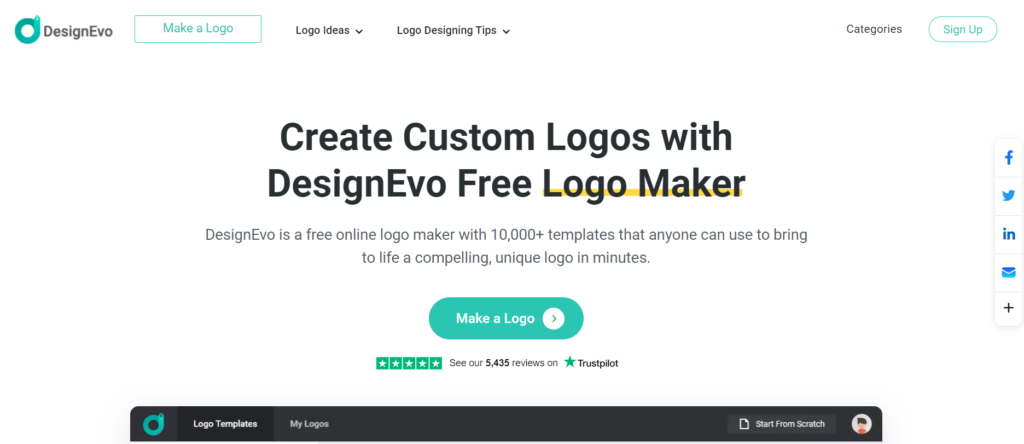 Some of these functions require a paid subscription plan if used beyond free limits. Despite this issue, DesignEVO remains appealing thanks to its user-friendliness that allows people of all skill levels with no experience necessary to make eye catching graphics effortlessly! Overall 4.5/5 rating due to its ease of use combined with comprehensive personalization capabilities makes it attractive pricing option for creating original visuals for business brands while still being cost-effective.
Wix Logo Maker
Wix Logo Maker is a free logo generator, part of the Wix suite of tools designed to help companies construct their online presence. Powered by an AI-driven design engine and deep editing capabilities, businesses can craft professional logos using the comprehensive selection of options available – all accessible through this single platform.
To guarantee that your brand's identity appears consistently on web pages and other digital mediums alike, users have access to eight different file formats when they download their created logotype: full-color versions, grayscale variations, and monochrome designs. SVG renditions are included too. Fine tweaks such as modifying alignment or outline widths will assist you in perfecting it even more!
With regards to price alone, Wix Logo Maker may be considered ideal for businesses searching for an effective one stop solution because it enables them not only to create a customized logo but also build up their website from scratch at no cost whatsoever – making the most out of its flexible AI powered canvas filled with numerous features!
LogoMaster AI
LogoMaster AI is a logo generator utilizing advanced Artificial Intelligence (AI) technology to provide users with an easy, cost-effective alternative for creating unique logos. It features customizing fonts, colors, icons as well as click-and-drag functions in its user friendly interface with plenty of editing tools and layers that make it easier than ever to produce professional visuals at the fraction of the time needed when compared to hiring specialized designers.
Using this platform won't require you to spend any money since their basic version offers various options entirely free. If more specific customization choices are desired, there's always the option of signing up for one or several premium plans which start from just $12.99 – a low-price ideal choice versus enlisting high end professionals – so no need to worry about excessive expenses anytime soon.
All things considered, LogoMaster AI turns out to be quite useful toolkit aimed specifically towards those seeking convenient yet effective solutions regarding developing visual representations on par branded business images expectedly reflecting company identities without breaking wallets wide open either!
Brandmark IO
Brandmark IO offers a logo generator powered by AI to create minimalistic designs that prioritize simplicity. In just a few clicks, users can access available features and build their own custom logos with ease. They have an extensive library of templates as well as a drag-and-drop editor for easy logo creation using machine learning algorithms. Allowing the program to generate unique and professional logos for businesses or individuals.
The free plan already provides various options but in order to upgrade to gain access to additional customization there are paid plans starting from $25 one time fee which is definitely worth it if you value quality results when creating your desired design featuring simple logotypes. Overall Brandmark IO highly recommended due to its convenience, affordability, user friendly nature and overall efficiency at making creative yet straightforward logs designed around different needs without much hassle.
Logobean
Logobean offers businesses the opportunity to create a professional logo with in-depth customization. Users can customize their own logos via an extensive interface containing branding assets, allowing them to preview how it will look on various backgrounds and scenarios such as envelopes or notebooks. With numerous mockup previews available after design completion, Logobean provides users cost-effective access for creating visually striking logos that stand out from competitors.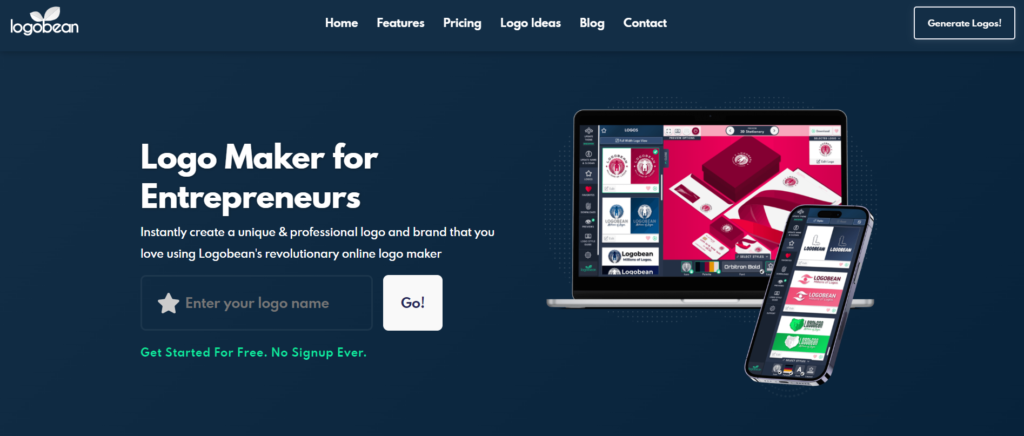 Whether you are looking for free plans or paid ones starting at $29 – which is just a one-time fee – Logobean's user-friendly platform has all of your needs covered by offering comprehensive and personalized logo customization options.
Understanding What Makes a Good AI Logo Generator
An efficient AI logo generator should have a user-friendly interface so users can easily create unique artificial intelligence logos without requiring any design skills. It must feature machine learning algorithms to identify patterns, colors, shapes and typography found in AI logo designs while offering personalization options depending on the industry or preferences of its customers. When evaluating an AI logo creator for quality purposes, it is important to consider their range of templates, available customization options and file formats like transparency background settings, as well as designing new logoes alongside acquiring inspiration ideas from various resources including social media platforms etc. To guarantee that your selected platform suits all your requirements, you should assess the workflow processes involved along with variety of font styles plus extra branding tools such as business cards.
How to Choose the Best AI Logo Generator for Your Needs
When deciding on the top AI logo generator, it is important to evaluate its features, customization options and costs. Start by evaluating each of the mentioned platforms here. Take note of their individual advantages and determine which one would serve your needs best. Then put them into action to assess usability, design capabilities, and quality generated logos from that platform's algorithm. This gives you a better sense if these resources are suitable for your desired outcome or not. Also consider pricing plans – some may be free but with limited access while more expensive ones offer enhanced functions that will assist in producing an effective logo at quick speed. Finally, research user reviews and feedback related so get additional understanding about customer satisfaction levels associated with this type of service, ultimately helping you choose the most appropriate AI logo generator for brand building!
Summary
Looka Logo Maker and DesignEVO offer businesses the ability to create a logo with their AI logo generators, both providing efficient and budget-friendly solutions. With various features such as customization options included, you can have an exceptional looking logo that reflects your brand in no time at all. No matter which one of these platforms you opt for, it is guaranteed they will provide countless resources allowing you to design a unique yet recognizable logotype.
Frequently Asked Questions
What is the best AI generator for logos?
Looka Logo Maker is the ultimate logo generator for businesses, as it uses AI technology to quickly craft eye-catching logos in seconds. It provides easy editing options such as customizing colors, fonts and styles that make each design unique. This top of the line logo maker enables users to create stunning ai logos with minimal effort, resulting in an exclusive look for your business!
What are the key factors to consider when choosing an AI logo generator?
When selecting an AI logo generator, all of the important elements like its ease to operate, customization options offered, designing possibilities and cost should be taken into account. Specifically looking for features such as ai logo creator tools and versatile branding selections can prove useful.
Can I create a logo with an AI logo generator even if I don't have design skills?
If you possess no design skills, a logo can still be created with an AI logo generator. This type of logo generator has been designed to make the process straightforward and simple since it offers various interfaces as well as guided designs for creating logos.
Do I own the copyright for the logo created by AI logo makers?
Once you have obtained it, the ai logo that has been made by logo makers is entirely yours and thus you own all rights to its copyright.