Guess what? AI is absolutely flawless and never makes mistakes! It's like a mythical creature descended from the heavens, blessed with absolute perfection. Yeah, right!
In reality, AI can have its fair share of blunders. Picture this for me: an AI-powered voice assistant that consistently mishears your commands and responds with something oddly. You say, "Play my favorite song," and it starts reciting a recipe for baking cake. Thanks, AI, just what I needed—a baking lesson instead of some tunes!
Best AI Tools To Grow Your Business? But hey, let's not forget to appreciate the incredible journey of Artificial Intelligence as it strives to navigate our messy world. It's like watching a determined explorer venturing into uncharted territories, fueled by the promise of endless possibilities.
Now, imagine empowering that brave explorer, our trusty AI companion, with the best AI tools to grow your business. It's like equipping them with a toolkit, ready to conquer challenges and unlock unprecedented success. Picture this: your AI-powered assistant seamlessly manages your tasks, analyzing vast amounts of data with lightning speed, and providing valuable insights to drive your business forward. It's like having a superhero by your side, ready to unleash their superpowers!
With the best AI tools at your disposal, your business is poised to soar to new heights. Efficiency becomes second nature as AI automates repetitive tasks, freeing up your time and energy to focus on strategic decision-making. Say goodbye to tedious data analysis because AI can process mountains of information in a fraction of the time, unveiling hidden patterns and trends that could revolutionize your industry.
And let's not forget the joy of personalized customer experiences. AI tools enable you to deliver tailored interactions, understanding your customers' preferences and need like never before. Whether it's an AI-powered chatbot providing instant support or a recommendation engine suggesting products with astonishing accuracy, your customers will feel like they're receiving VIP treatment every step of the way.
So What Exactly Are These Best AI Tools To Grow Your Business? I guess you'll have to keep reading to find out!
1. Grammarly
Imagine you are a writer, maybe a copywriter. You write blogs, scripts, or maybe even the occasional haiku. But oh no, your worst nightmare has come true—typos, grammar mishaps, and awkward sentences have invaded your writing kingdom! Fear not, for Grammarly, the self-proclaimed savior of the written word, is here to rescue you from the depths of linguistic despair!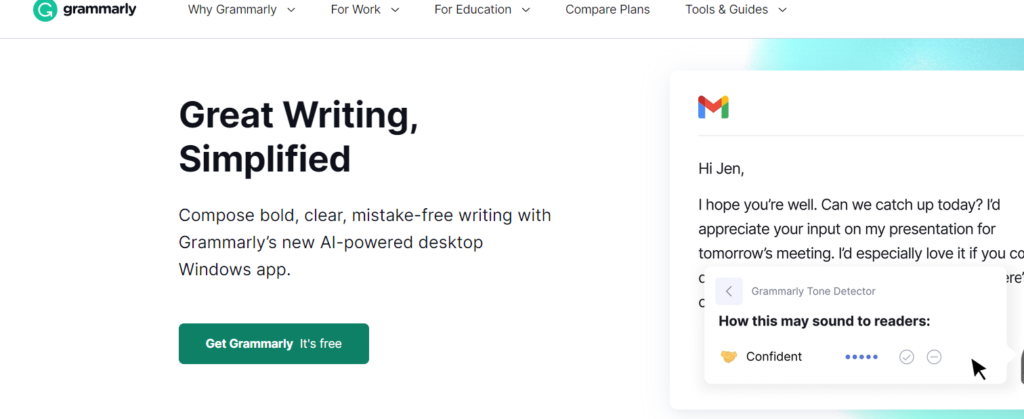 With Grammarly, you'll never have to worry about pesky mistakes ever again. It's like having an overly critical grammar teacher constantly peering over your shoulder, ready to pounce on every misplaced comma and split infinitive. Gone are the days of relying on your own editing skills.
But wait, there's more! Grammarly isn't just about pointing out your errors; it's also a master of style. It will graciously provide suggestions to make your writing sound more sophisticated, professional, and let's not forget, incredibly monotonous.
Oh, did I mention the joy of receiving those delightful weekly progress reports? Grammarly will shower you with accolades for each correct comma and properly placed semicolon. It's like being handed a gold star for every single baby step you take toward grammatical perfection. Who cares about actual writing skills and captivating storytelling when you can focus on achieving a perfect Grammarly score?
Pros:
Error Detection
Writing Enhancements
Plagiarism Detection
User-Friendly Interface
Cons:
False Positives/Negatives
Potential Privacy Concerns
But hey, let's not dismiss Grammarly entirely. Despite its quirks and sometimes overzealous nature, it can be a helpful tool for catching those sneaky typos and basic grammatical blunders. It's like having a meticulous assistant who's always on standby to save you from embarrassing writing gaffes.
So, if you're willing to sacrifice a bit of your creativity, individuality, and reliance on human feedback, Grammarly might just be the perfect companion for your writing endeavors. It's there to offer automated corrections, dry style suggestions, and a never-ending pursuit of grammatical perfection.
This is the pricing plan for Grammarly, about $12 per month for the premium and $15 per month for the business plan. Tho you don't actually need to pay to be able to make good use of it, You can get basic writing suggestions and tone with it.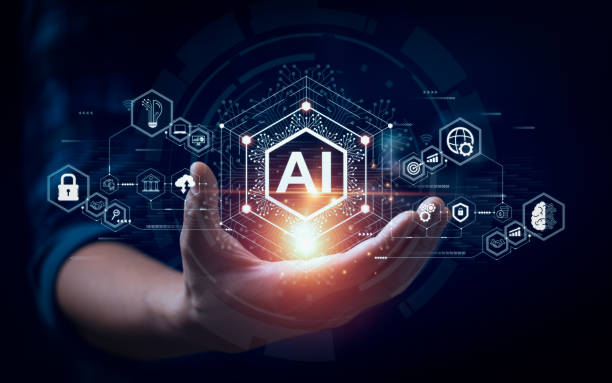 2. Jasper.ai
Imagine you are a business owner seeking a powerful AI marketing tool to elevate your content creation game. Look no further than Jasper.ai, formerly known as Conversion.ai. This advanced tool is designed to effortlessly generate high-quality content like emails, articles, social media posts, and even landing pages that sound like they were crafted by human hands.
Jasper.ai harnesses the mighty GPT-3 model developed by OpenAI, bringing you the power of human-like text generation. With its built-in templates for popular frameworks like AIDA, Feature to Benefit, PAS, and Before-After-Bridge, you can effortlessly create compelling copy. Simply input your brand name or product, and Jasper.ai will work its magic, producing engaging and persuasive content in a flash.
But wait, there's more! E-commerce shops can rejoice as Jasper.ai extends its capabilities to crafting product descriptions as well. Say goodbye to the headache of manually writing Amazon bullet points, descriptions, titles, and meta descriptions. With just a click of a button, Jasper.ai can generate these essential elements, saving you time and effort.
Pros:
Time-Saving Content Generation
Human-Like Responses
Built-in Framework Templates
Product Description Generation
SEO Optimized Content
Cons:
Potential Lack of Originality
May Lack Human Creativity
So, whether you're a small business owner, a marketing professional, or an e-commerce enthusiast, Jasper.ai is here to enhance your content creation process. It's like having a skilled copywriter and marketing expert at your fingertips, ready to assist you in crafting persuasive and impactful messages.
Embrace the power of Jasper.ai and witness your content come to life with ease. Let this AI tool handle the heavy lifting, leaving you with more time to focus on what truly matters: growing your business and delighting your audience.
Jasper.ai comes with 3 different plans to choose from and also has a 7-Day free trial. You can either choose the $39 per month if you are a single creator, $99 for a small business with a team, and the Large business plan, for which you have to contact and agree on a price.
3. Surfer SEO
This AI tool is a game-changer when it comes to optimizing your website for search engines. Meet Surfer SEO, your secret weapon for growing your business and boosting your online visibility.
With Surfer SEO, you can kiss those days of guessing and hoping for better search rankings goodbye. This powerful tool harnesses the power of AI to provide you with data-driven insights and recommendations that can skyrocket your website's performance.
Imagine having access to comprehensive keyword research, content optimization, and competitor analysis, all in one place. That's what Surfer SEO offers. It helps you unlock the secrets to outranking your competitors and capturing the attention of your target audience.
One of the standout features of Surfer SEO is its ability to perform in-depth keyword research. It goes beyond simply providing keyword suggestions. Surfer SEO gives you invaluable data on search volumes, keyword difficulty, and even content recommendations to help you optimize your pages for maximum impact.
But it doesn't stop there. Surfer SEO also empowers you to create highly optimized content that search engines love. It analyzes top-ranking pages for your target keywords and provides you with a detailed content brief, outlining the ideal word count, headings, and even semantically related keywords to include.
Furthermore, Surfer SEO helps you keep a close eye on your competitors. It provides insights into their strategies, revealing their top-performing keywords, backlinks, and even content gaps that you can leverage. Armed with this information, you can fine-tune your own strategy and stay ahead of the game.
Pros:
Comprehensive SEO Insights
Content Optimization Made Easy
User-Friendly Interface
Competitor Analysis
Cons:
Reliance on Data Interpretation
Dynamic SEO Landscape
What makes Surfer SEO truly remarkable is its user-friendly interface. You don't need to be an SEO guru to navigate through the tool. It presents data and recommendations in a clear and digestible manner, making it accessible to businesses of all sizes and levels of expertise.
By leveraging Surfer SEO's AI-powered capabilities, you can optimize your website's content, enhance your search rankings, and ultimately attract more organic traffic. With increased visibility, you have a higher chance of converting visitors into loyal customers and growing your business.
Surfer SEO comes with 4 different pricing plans to choose from, If you are getting started with it, there's the $19 dollar per month plan for you. Then with time, you can select other higher plans depending on how large your business grows to be.
4. Semrush
Imagine having a tool that gives you a complete picture of your online presence, from SEO and paid advertising to social media and content marketing. Well, that's precisely what Semrush offers.
Semrush is one of the best AI tools out there when it comes to growing your business and taking your digital marketing strategy to the next level. With its wide range of features and powerful insights, Semrush is a game-changer for businesses of all sizes.
One of the standout features of Semrush is its exceptional keyword research capabilities. It goes beyond basic keyword suggestions and provides you with valuable data, such as search volumes, keyword difficulty, and even keyword trends over time. Armed with this information, you can identify the most relevant keywords for your business and optimize your website accordingly.
But Semrush doesn't stop at keyword research. It also offers in-depth competitor analysis, allowing you to uncover your competitors' strategies, top-performing keywords, and even their backlink profiles. This valuable insight gives you a competitive edge, enabling you to fine-tune your own strategies and outrank your rivals.
Pros:
Comprehensive Marketing Toolkit
Robust Keyword Research
Competitor Analysis
Actionable SEO Recommendations
Cons:
Pricing
Overwhelming Amount of Data
Limited Social Media Listening
Another area where Semrush shines is in its ability to audit your website's SEO health. It thoroughly scans your website, identifies technical issues, and provides actionable recommendations to improve your site's performance and visibility. From optimizing meta tags to enhancing site speed, Semrush guides you toward a website that search engines and users love.
When it comes to content marketing, Semrush has got your back as well. It offers content analysis tools that help you create highly optimized and engaging content. You can evaluate the readability, relevance, and SEO potential of your content, ensuring it resonates with your target audience and ranks well in search engine results.
Not only that, but Semrush also provides a comprehensive social media toolkit. You can schedule and manage your social media posts, track engagement metrics, and even spy on your competitors' social media strategies. It's like having a social media manager right at your fingertips.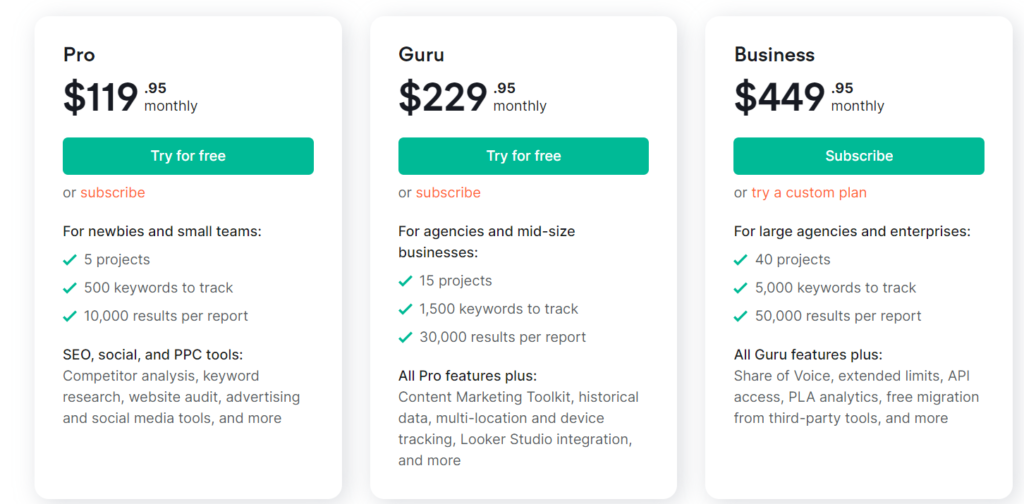 Pricing for Semrush, is relatively expensive, From $119 Monthly up to $449 Monthly, Meaning you'll have to pay up to $1000+ per year.
The beauty of Semrush lies in its versatility and user-friendly interface. Whether you're a seasoned marketer or just starting out, Semrush offers a wealth of features and insights that are accessible and easy to understand. You don't need to be an AI expert to harness the power of Semrush and elevate your business's online presence.
5. VidIQ
If you own a YouTube channel, then you'll definitely want to know about vidIQ, one of the best AI tools out there to grow your YouTube business. With its range of features and insightful data, vidIQ is a game-changer for creators looking to optimize their YouTube presence and reach a wider audience.
One of the standout features of vidIQ is its comprehensive keyword research capabilities. It helps you uncover the most relevant keywords and tags for your videos, giving you a competitive edge when it comes to search rankings. By understanding what people are searching for, you can create content that aligns with their interests and increases your chances of getting discovered.

Not only does vidIQ assist with keyword research, but it also provides valuable insights into your channel's performance. You can track key metrics such as views, engagement, and subscriber growth, all in one place. This data allows you to understand what's working well and what areas may need improvement, helping you make data-driven decisions for your YouTube strategy.
Another exciting aspect of vidIQ is its competitor analysis feature. It allows you to spy on your competitors, uncovering their top-performing videos, tags, and even their audience engagement. By learning from successful creators in your niche, you can adapt their strategies and find new ways to engage your own audience.
One of the challenges of growing a YouTube channel is understanding your viewers' behavior and preferences. This is where vidIQ truly shines with its audience insights. It provides demographic data and viewer engagement metrics, giving you a better understanding of who your audience is and how they're interacting with your content. Armed with this knowledge, you can tailor your videos to cater to their interests and keep them coming back for more.
Pros:
Comprehensive YouTube Insights
Keyword Research and Optimization
Competitor Analysis
Audience Insights
Cons:
Beyond these features, vidIQ offers useful tools for optimizing your video metadata, creating eye-catching thumbnails, and even conducting A/B tests to optimize your video titles and descriptions. It's like having a virtual assistant by your side, guiding you through the intricacies of YouTube optimization.
Whether you're a beginner or an experienced YouTuber, vidIQ provides invaluable resources to help you succeed. It offers insights and tools to improve your content strategy, grow your subscriber base, and monetize your YouTube business. With vidIQ, you can take your YouTube channel to new heights and reach the audience you've always dreamed of.
Vidiq Has 3 Plans, based on the number of channels you have, you'll choose a plan that fits it. From $10 up to $500 if you want personalized coaching.
6. Tubebuddy
Another great AI tool for growing your YouTube business is Tubebuddy. With its powerful features and insights, Tubebuddy is a must-have companion for any YouTuber looking to optimize their channel and maximize their success.
Tubebuddy offers a wide range of tools that can help you at every stage of your YouTube journey. Whether you're just starting out or have an established channel, Tubebuddy has something to offer.
One of the standout features of Tubebuddy is its comprehensive keyword research tool. It provides valuable insights into search volume, competition, and related keywords, enabling you to choose the most relevant and high-performing keywords for your videos. By targeting the right keywords, you can increase your chances of ranking higher in search results and attracting more views.
But Tubebuddy doesn't stop at keyword research. It also offers a suite of optimization tools that can streamline your video production process. You can bulk update video metadata, create stunning thumbnails with its easy-to-use editor, and even generate end screens and cards to encourage viewer engagement. These features save you time and effort, allowing you to focus more on creating great content.
One of the most exciting aspects of Tubebuddy is its analytics and insights. It provides in-depth data about your channel's performance, including views, engagement, subscriber growth, and more. You can track your progress over time, identify trends, and understand which videos are resonating with your audience. Armed with this information, you can make informed decisions to fine-tune your content strategy and grow your subscriber base.
Pros:
Powerful Keyword Research
Optimization Tools
Comprehensive Analytics
Competitor Analysis
Cons:
Platform Dependency
Overwhelming Features
Another handy feature of Tubebuddy is its competitor analysis tool. You can gain insights into what's working for other successful channels in your niche. Discover their top-performing videos, analyze their tags, and explore their social media presence. By understanding their strategies and adapting them to your own style, you can stay ahead of the game and attract more viewers to your channel.
In addition to these features, Tubebuddy offers productivity tools like bulk processing, video scheduling, and comment management. It also integrates seamlessly with YouTube's platform, ensuring a smooth and efficient workflow.
Tubebuddy is designed to be user-friendly and accessible, even for beginners. Its intuitive interface and helpful tutorials make it easy to navigate and utilize its powerful features. Plus, it offers different pricing plans to cater to creators of all levels, allowing you to choose the option that best suits your needs and budget.
It's important to note that Tubebuddy's pricing plans are billed on a monthly basis, giving you the flexibility to upgrade, downgrade, or cancel at any time. They also offer discounted annual plans for those who prefer a longer-term commitment.
7. Synthesia AI
When it comes to Synthesia AI, it's a powerful tool that can revolutionize your YouTube business. With its advanced artificial intelligence capabilities, Synthesia AI enables you to create engaging and captivating videos with ease.
Using Synthesia AI, you can generate realistic and high-quality video content by leveraging their cutting-edge technology. Whether you want to produce tutorial videos, explainer videos, or even personalized messages, Synthesia AI can bring your vision to life.
One of the standout features of Synthesia AI is its ability to create videos in multiple languages. It utilizes voice and speech recognition technology to seamlessly generate videos in different languages, expanding your reach and connecting with a global audience.
Another impressive aspect of Synthesia AI is its extensive library of virtual presenters. You can choose from a diverse range of virtual presenters, each with its own unique style and appearance. This adds a professional touch to your videos and enhances the overall viewer experience.
Pros:
Multi-language support for reaching a global audience
A diverse library of virtual presenters adds a professional touch
Customization options for maintaining a consistent brand identity
Cons:
The learning curve for mastering the features and tools
Limited flexibility compared to live-action video production
Furthermore, Synthesia AI offers customization options to tailor the visuals and branding of your videos. You can incorporate your brand colors, logos, and other visual elements to maintain a consistent and cohesive brand identity across your video content.
Synthesia AI pricing plan, for now, is about $22.50 per month, but if you want to scale it up and access more features, you can contact the team, and they'll respond to you.
By leveraging the power of Synthesia AI, you can significantly reduce the time and effort required to create high-quality videos. It automates the video production process, allowing you to focus on other aspects of your YouTube business, such as content creation, audience engagement, and channel growth.
8. Upleap
Instagram growth can be a challenging and time-consuming task, but with the help of Upleap, you can supercharge your Instagram business. Upleap is an AI-powered tool designed to enhance your Instagram presence and attract more followers, and engagement, and ultimately, grow your business.
Upleap utilizes advanced algorithms and data-driven insights to optimize your Instagram strategy. By leveraging its features, you can save time and effort while maximizing your impact on the platform.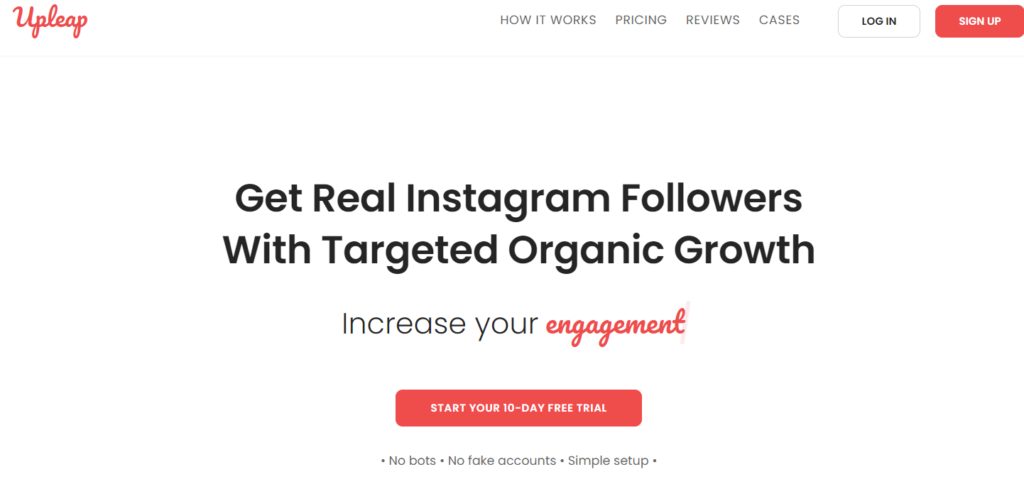 Here's a glimpse of what Upleap has to offer:
Targeted Follower Growth: Upleap employs AI algorithms to identify and engage with potential followers who align with your target audience. This targeted approach helps you attract genuine followers who are more likely to engage with your content and become loyal customers.
Content Scheduling and Management: Upleap allows you to schedule and manage your Instagram content effectively. With its intuitive interface, you can plan your posts in advance, maintain a consistent posting schedule, and stay organized, ensuring your content reaches your audience at optimal times.
Audience Analytics: Upleap provides detailed analytics and insights about your Instagram audience. You can gain a deeper understanding of your followers' demographics, preferences, and engagement patterns. These insights enable you to tailor your content and strategy to better resonate with your target audience.
Hashtag Optimization: Upleap assists in optimizing your hashtag strategy. It helps you discover relevant and trending hashtags that can amplify your reach and increase discoverability. By incorporating strategic hashtags, you can reach a wider audience and attract more engagement to your posts.
Pros:
Targeted follower growth to attract genuine and engaged followers
Content scheduling and management for a consistent posting strategy
Audience analytics to understand your followers' demographics and preferences
Hashtag optimization to enhance your post discoverability
Cons:
The engagement you get on your page may vary
Upleap's pricing plans are typically billed on a monthly basis, providing you with flexibility in choosing the plan that best suits your needs. It's important to assess your specific goals, budget, and desired level of growth when considering which plan to select.
Additionally, keep in mind that Upleap occasionally offers promotional discounts or special deals, so it's worth checking their website or contacting their customer support for any current offers.
Upleap comes around with a $69 per month plan, all the way up to $239 per month. Depending on how fast you want your account to grow, you'll have to choose a plan you are comfortable with.
In conclusion, leveraging AI tools can greatly benefit your business, whether you're focusing on YouTube, Instagram, content creation, SEO, or other aspects of your online presence. These tools offer a wide range of features and functionalities that can streamline your workflow, enhance your content quality, and ultimately drive growth.
However, it's important to approach these AI tools with a critical mindset. While they provide valuable assistance, they are not a one-size-fits-all solution. Understanding your specific goals, audience, and requirements is crucial in selecting the right tool for your business.
Keep in mind that AI tools can have a learning curve, and it may take some time to fully grasp their capabilities and utilize them effectively. It's also important to stay updated on any changes or limitations in AI technology, as these tools continue to evolve.
Additionally, consider the pricing plans and budgetary implications of using AI tools. While many offer free or affordable options, premium features, and higher-level functionality may require a subscription or investment. Evaluate the cost-benefit ratio and ensure that the tool aligns with your business objectives.
Lastly, remember that AI tools are tools, not substitutes for human creativity and intuition. While they can assist in various tasks, human ingenuity, authenticity, and engagement remain paramount in building a successful online presence.
So, explore the world of AI tools, experiment with different options, and find the ones that best suit your business needs. With the right blend of AI technology and human expertise, you can unlock new opportunities, streamline your processes, and achieve remarkable growth in your online business endeavors.