Yeah, I know, Artificial Intelligence "AI" is going to take over the world. Just Kidding… It probably won't. 108% Of people reading this blog now, clicked it because they have been hearing about AI everywhere [CHATGPT] and want to learn exactly how to make money on youtube using AI. People over the internet have been ranting about how they used Ai to make thousands/millions of dollars. But is it even possible to do that? I mean how can someone be that lucky?
The truth is that it's not as difficult as you think.
Like it or not, AI has made many things easy for us in this generation. I just want you to know that after reading this blog, You'll understand everything about how to make money on youtube using Artificial Intelligence. Hopefully, you'll be able to start generating money too just like other people.
Okay, now that I have your attention. I would have gone through a brief history about AI, Buh I don't want to bore you guys. We just want to make money with AI.
Read through conscientiously. So that you can decide on a route to follow. I'm going to explain everything very very well. Let's Begin.
How To Make Money From Youtube Using AI
Youtube has proven itself to be one of the biggest platforms on the internet. The second largest search engine after Google. Just imagine if you could penetrate thousands of people there and be able to create your own space there that generates money. Requirements there for you to be monetized are 1000 subscribers and 4000 hours of watch time.
Many people have faced different challenges because they have not been able to reach these requirements. And there are so many explanations as to why.
It's either they produce very bad content which of cause many people won't watch. Or they don't understand the fundamentals of it. They just hop in and post different types of videos. Then expect it to go viral just like that.
How can we fix that, or if you're a beginner, How exactly can you make money from youtube using AI?
We are going to do 4 steps to achieve this goal. Firstly, I need you guys to understand some terminologies I'm going to use. You need to understand Script Writing, Text To Speech, thumbnails, and CTR( Click Through Rate). I'll explain each of them as we proceed.
So if you're basically starting from scratch, you'll need to pick a niche. A profitable niche. Many people would advise you to do what you like. Mmmmm. In my opinion, you'll have to choose something that's very very profitable that you are comfortable with not what you like exactly. Because it's not what you like other people would like too. It's the internet, people don't really care.
So let's look at some youtube niches you can choose from, to begin with.
Firstly, if you are the shy type, and don't feel comfortable showing your face, I've got you covered. There are soo many faceless youtube channels out there that make a lot of money, and nobody has seen their real face before.
This niche deals with things about the universe, and so many people are curious to know more about what is happening in the universe. These are examples of some of my favorite channels that do these. Fexl, Ridddle, Destinyspace, History of the universe. 
For this one, it's basically facts about random stuff. Like "Top 10 Animals You're Glad Are Extinct" Examples Of Channels Doing this – Top10 File, LEMMiNO, Trend Max.
Basically educating people, with life hacks, school stuff like maths, or even teaching people how to do stuff. "How to create a Facebook account" There are people out there looking for videos like this.
This are my top 3 picks for faceless channels. But you can find out more here.
…
And then, if you feel comfortable showing your face these are niches you can choose from.
Gaming.
Beauty and Makeup.
Personal Finance and Investing.
Cooking and Recipes.
Health and Fitness.
Travel and Adventure.
Technology and Gadgets Reviews.
Also, Get Other Ideas Here.
So, let's say you have gotten a niche, The next step is to create the channel, Customize it and verify it with youtube.
How do we then begin creating the videos and using AI to make money from youtube? We need to write a script. When I mean script, it's what the narrator would say inside the video.
To start the script, You'll need an Introduction, a Body, and an Outro. To begin with, you'll need the help of an AI Called Copymatic.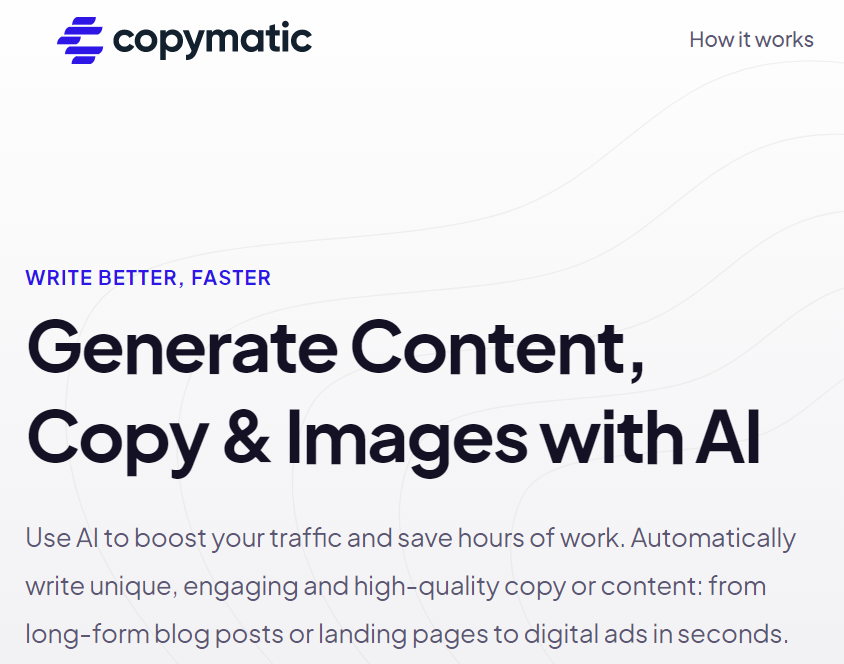 I'm sure many of you must have heard of ChatGPT. Which is essentially an AI designed to generate human-like responses to a wide range of prompts and questions in natural language. But why I won't use ChatGPT to generate youtube video scripts is because of: Lack of Personalization, Limited Creativity, and Requires Additional Editing. Don't get me wrong, it's not that people don't use it to generate scripts for their videos. Just that Copymatic, has soo many features that are very very useful for YouTubers.
Just Take a look at some of their Features:
Content Rewriter
Text To Speech
Video Script Intros
Video Script Outlines
Video Titles
Video Description
Video Tags
And these are not up to half of the features they have there. Guess what, you can even request a new feature if you have any other thing you need. You can check them out for free HERE.
So…Let's being writing the script. To start, after signing up to Copymatic, On your dashboard, you'll see something like "Blog Post Writer" It's also in the image above this paragraph. Click it. So let's pretend we are going to be producing videos about Space [Astronomy Niche]. And we want to write about "20 Dangerous Facts About Space"
This image is just a preview of what I said. You input the topic you want to write about and some tags for it. Click Next.
You can choose to generate titles or continue with your own title.
I'm going with this title. "Space is Not for the Faint of Heart: 20 Scary Realities You Need to Know"
Select it, then generate an intro for the topic.

Just take a look at some intro it provided. More than 5 different options to select from Choose the one you are comfortable with and continue.
Generate an outline for it.
I selected the first outline. And Generated The Content.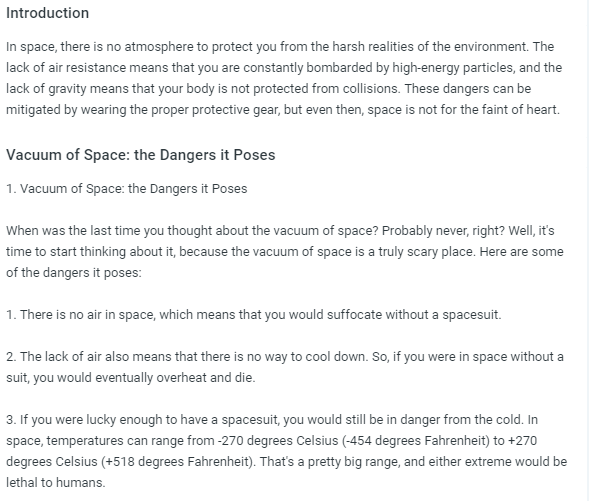 ---
It's very long. Tho the most important thing is that the content was generated as we asked. The next step is to copy it and paste it into a document. Like Google Docs.
After you have gotten the script, make sure you read and cross-check the information the AI provided. Then the next step is to convert the text to speech.
Go back to your dashboard inside Copymatic, scroll down, and look for a tool/feature called Text to Speech.
---
Select a voice. Listen to each of them and choose the ones you are comfortable with. Paste the script there. Do it bit by bit until you've converted every text to speech(mp3).
Soo, we have gotten the script and the audio, the next step we need to do is to edit it and create a video. We'll use the help of an online AI Called Invideo.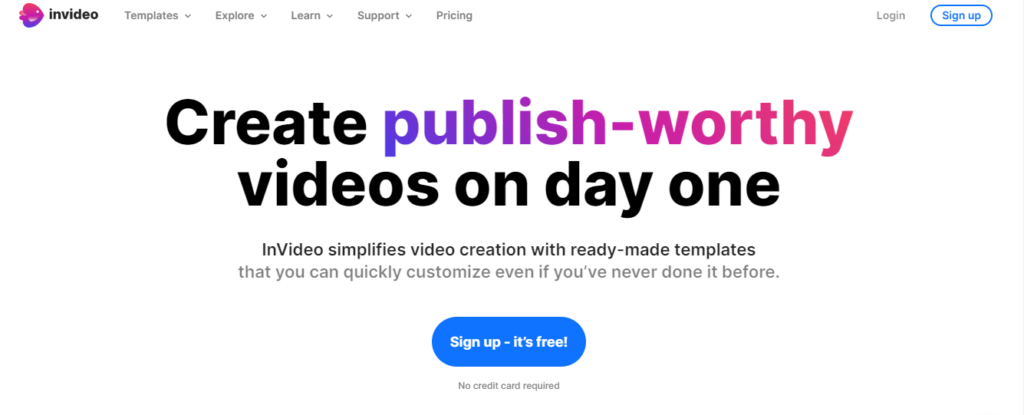 Head over to their website [HERE], and sign up for a free account with them. After answering a short survey, you'll be able to access your dashboard.
In the dashboard section, I need you to go ahead and click the text to video.
You would be presented with different templates to choose from. Choose anyone you feel comfortable with.
Paste your script and start creating Scenes. Play around with it till you understand it very well, it's not further maths.
You can watch the video below to learn more about it.
Another great AI Tool that can help you generate high-quality videos is, Synthesia. Synthesia AI uses natural language processing (NLP) and machine learning (ML) to understand the text and turn it into video. It analyzes the text, breaks it down into individual words and phrases, and then creates a storyboard that matches the content. Once the storyboard is created, the AI technology generates the video, including the animations, voiceover, and other elements.
Create A Free Video With Synthesia Here.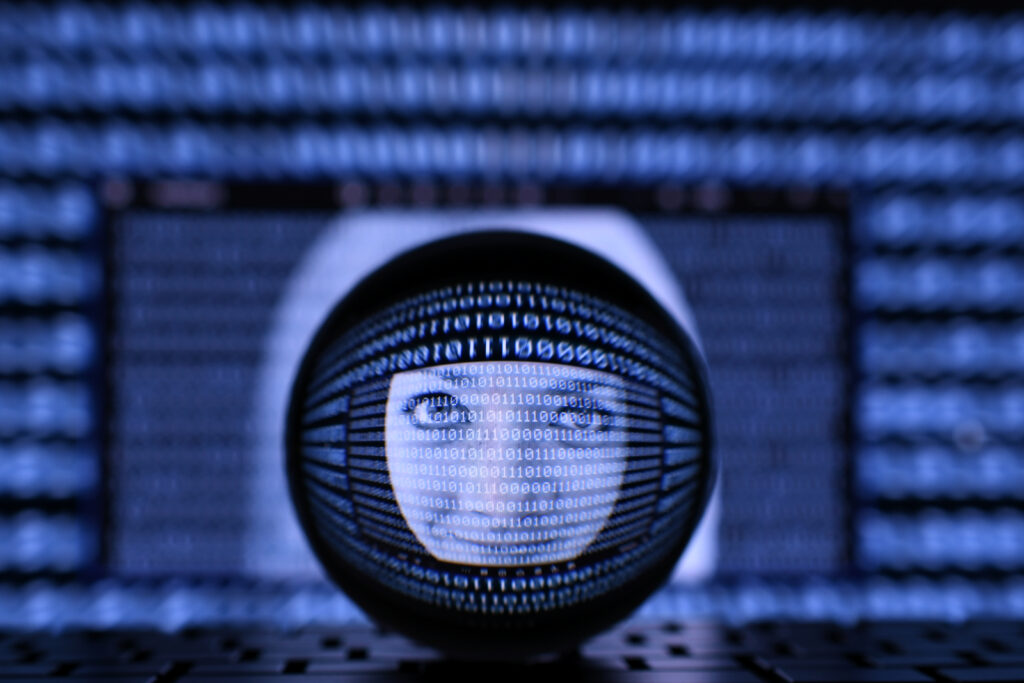 So once you've gotten the video, you can export it and upload it to youtube. Make sure you put a high-quality thumbnail so that the Click through Rate would be high. if you don't understand any process, there's a comment section below where I would be answering all your questions.
As you embark on your journey to monetize your YouTube channel with the help of AI, it's crucial to keep in mind that the results you achieve may vary. The power of AI technology to enhance your content creation process and increase your chances of success is undeniable, but it's not a guaranteed path to monetary gain.
However, that should not deter you from exploring the incredible potential of AI and YouTube. In fact, it's essential to be aware of YouTube's policies and guidelines for monetizing your content, including abiding by copyright laws, avoiding clickbait or misleading content, and delivering value to your audience.
It's not just about the number of views or subscribers you have, but the quality of your content and how it resonates with your audience. That's where the magic of AI can come into play, elevating your content to new heights and engaging your viewers in ways you never thought possible.
But don't be fooled into thinking that AI is a magic solution that requires no effort. It's important to approach it with a balanced perspective and a willingness to put in the time and energy required to create meaningful, high-quality content that truly connects with your audience.
Despite the challenges, the possibilities of what you can achieve with AI technology and YouTube are truly limitless. So, let your imagination run wild, experiment, and have fun on your journey to making money on YouTube using AI. You never know what groundbreaking discoveries and innovations you might uncover along the way. The sky's the limit!