In today's digital age, video editing has become an essential skill for content creators, marketers, and even casual users. However, editing videos can be time-consuming, especially for those lacking technical expertise. Fortunately, Artificial Intelligence (AI) advancements continue transforming the video editing landscape, making it easier than ever to unleash your creativity.
The increasing demand for social media and online platforms also increases the need for high-quality video content. There are other reasons for using AI in video editing and content creation. One reason is that more tools are available.
Another reason is the need to make complex tasks easier. AI video editing tools allow users to create impressive videos quickly, stopping the need for long editing hours. AI video editing tools offer many ways for users to create stunning video content without spending days in the editing room.
This post will explore the top 6 AI video editing tools and how they can effortlessly enhance your videos.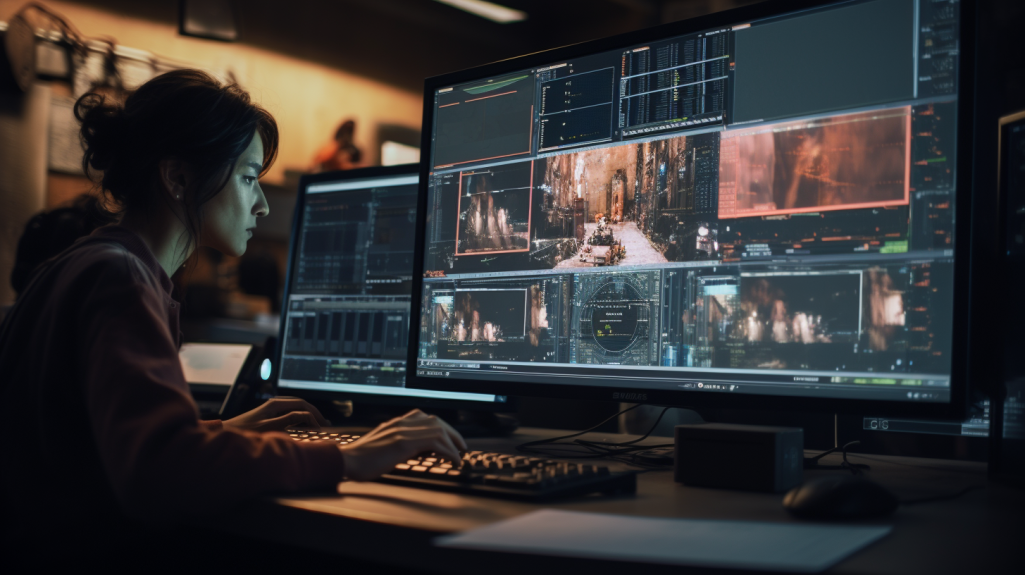 What are AI Video Editing Tools?
The consumption of digital content is increasing. As a result, the audio and video software market will likely reach $8 billion by 2033. Fortunately, AI video editing software simplifies the editing process for video editors to address this need.
AI-powered video editing tools can automate many tasks, like color correction, audio editing, and even video creation. AI video editing tools leverage complex machine learning algorithms to analyze and process video footage, making editing more efficient. These tools can automatically suggest edits and transitions and create entire videos from scratch.
Many support AI tools, but opponents mention concerns about the lack of creativity. AI video editing tools assist professional video editors, not replace them. They can help streamline video editing, allowing users to focus on the creative aspects of their work.
These tools also benefit anyone new to video editing, as they can help them achieve professional-looking results.
Understanding the Role of AI in Video Editing
AI in video editing is about more than just automating tasks. It's about enhancing the creative process efficiently. AI can analyze a video in ways humans can't, identifying patterns and trends to improve the final product. Or, it can analyze the video's color palette and suggest adjustments to make the colors more vibrant or balanced.
AI can also help with the storytelling aspect of video editing. Some tools can analyze the narrative structure of a video and suggest edits to make the story more engaging. This feature can be helpful in documentary or narrative film editing, where the story is a crucial video element.
Best AI Video Editing Tools for Creators
Our review discusses ways your average creators or interested techie can create videos to share online. Tools like Canva and Figma make graphic design accessible to individuals and teams with limited resources. Let's discuss the top 6 best AI tools for video editing that creators use.
Adobe Premiere Pro
Many film, TV, and advertising professionals use Adobe Premiere Pro. It's also one of the first video editing tools to use built-in AI technology. Adobe Sensei, the company's AI, powers their cloud-based tools.
One of the most notable AI features in Premiere Pro is Auto Reframe. This tool uses AI on video footage and automatically reframes it for different aspect ratios without losing crucial elements. This feature is handy for social media content creators who need to adapt their videos for other platforms.
With its advanced features, Adobe Premiere Pro is best for seasoned video editors.
Key Features
Text-Based Editing: Automatically detect and remove filler words from video clips while maintaining a natural cadence.
Auto Ducking: Automatically adjust background music volume during dialogue scenes.
Enhance Speech: This impressive beta feature uses AI to remove all the pesky background noise and make the dialogue sound clear.
Pricing
Adobe switched its cloud-based pricing model in 2019, offering a Creative Cloud subscription for $54.99/month. This plan gives users access to all Adobe apps, including Premiere Pro. They also have:
Premiere Pro Single App: $20.99/mo
Students and Teachers: $19.99/mo
Business: $84.99/mo per license
Use Cases
Professional filmmakers and editors working on feature films, TV shows, or commercials
Content creators with a sizeable following need editing tools and video effects to enhance their content.
Business owners looking to create a video for marketing purposes.
Students or teachers working on film projects or creating educational videos.
Premiere Pro Cons
A steep learning curve for new users.
Requires a powerful computer to run smoothly.
A monthly subscription fee may be expensive for casual or beginner users.
Vimeo: One Take
If you're into video editing, you've undoubtedly heard of Vimeo. It's a popular video hosting platform that also offers editing tools for its users. Vimeo is a video hosting platform, but few know its advanced video editing tools. One Take is Vimeo's AI-powered video editor, designed specifically for small businesses and users without editing experience.
One Take simplifies editing by automatically analyzing audio and video footage to create a polished video. For more control over the final product, the tool offers personalization, like changing the music or adding text overlays. Vimeo's video editing app even makes it easy to automate the editing process while branding and optimizing your content for SEO.
Key Features
AI Script Editing: The AI can generate a script for you based on a prompt and a few specifications.
AI-Based Teleprompter: The online teleprompter provides clear, bold guidance to help you speak confidently to the camera.
AI-Based Post-Production: The AI tool detects pauses, allowing for easy removal and a seamless script. Users can also create and edit clips by selecting and deleting unwanted text.
Pricing
Vimeo has a free plan for basic video hosting and limited editing tools. The free plan is just enough to learn about the software but only allows users to create three videos. For more advanced features, they offer:
Starter: $20/mo
Pro: $33/mo
Advanced: $108/mo
Use Cases
Small business owners looking to produce professional-looking videos for their brands.
Social media influencers and content creators who want to create engaging content without spending hours editing
Beginner video editors looking to learn and improve their skills
Script-based video creators who want a more efficient editing process
Vimeo: One Take Cons
Limited video templates compared to other AI editing software.
Some advanced features are only available on higher-priced plans.
The free plan limits users to 3 videos per month.
Lumen5
Lumen5 is a video creation platform that automates your video editing with AI. The software helps businesses and individuals make exciting videos for social media, tutorials, or showcasing products. This AI video editing platform is ideal for beginners and is as easy as setting up a PowerPoint presentation.
With Lumen5's point-and-click and drag-and-drop functionality, anyone can easily create professional-looking videos. As an online video creator, it's much easier for anyone to access. Lumen5 helps bloggers turn their top posts into videos for business growth, expanding their horizons effortlessly.
Key Features
Premium Videos and Photos: Lumen5 has a vast library of licensed videos and photos for users. Browse Unsplash and Shutterstock for the perfect media.
Text-to-Speech: Users can input text, and Lumen5's AI technology will automatically generate voiceovers in different languages.
Custom Branding: Users can use the starter-level pricing to add their logo, colors, and fonts to ensure brand consistency.
Machine Learning Algorithms: Lumen5 curates videos to reflect your vision with personalized content as it learns from your imagination.
Pricing
Lumen5 has fewer available plans, but these plans serve clients better than other AI video editors. Casual users can access the Community plan without any cost. However, the videos they upload will have a watermark and a resolution restriction to 720p.
Additionally, they can only upload a maximum of five videos per month.
Starter: $59/mo
Professional: $149/mo
Enterprise: Custom pricing/mo
Users can access the Enterprise plan for personalized AI video creation. They can also access other features for large businesses. These features include custom branding and the Lumen5 design team.
Use Cases
Small business owners looking to create engaging videos for their products or services without spending hours editing.
Social media influencers that want to expand their content creation strategy with visually appealing videos
Bloggers who want to repurpose their written content into videos to reach a wider audience
Non-profit organizations that want an easy-to-use platform to create monthly promotional videos and increase awareness
Lumen5 Cons
Limited options to create bespoke content compared to other video editing software.
Larger videos cause the platform to experience performance issues.
Descript
Editing videos by freely altering the audio content of your media is a popular route for AI video editors. Descript is an AI-powered video editor focusing primarily on audio editing for short clips, podcasts, and other similar media. What initially started as a helpful approach to podcast audio editing has transformed into an extensive AI video editing tool.
Descript is a cloud-based platform that leverages AI technology to transcribe and edit video files like text-based documents. This platform uses automated transcript generation, VO syncing, and automatic audio clean-up. Even users with no experience in video editing can use this powerful tool to make engaging videos.
The transcript lets creators quickly scan the dialogue and edit without scrubbing through the entire clip. Users can edit their videos by script and scene rather than frame by framework, making it significantly less tedious. Additionally, Descript can even generate captions for videos.
Descript began as a podcast editing service and still focuses on editing audio. The platform also has an easy-to-use collaboration feature for small or large teams.
Key Features
Overdub: Create a lifelike voice clone of your voice and then type new words into your scripts.
Filler Word Removal: Instantly remove filler words like "um," "uh," and "you know."
AI-Powered Greenscreen: With just a click, remove your background and place yourself in any setting to fit your video.
All-in-One Tool: Use Descript's AI platform for video editing, podcasting, screen recording, transcription, clip creation, and publishing.
Pricing
Descript has a free trial for one project each month, but after that, you must upgrade to a paid plan. Users can choose between three pricing options:
Creator: $12/mo
Pro: $24/mo
Custom: Contact Descript for pricing guidelines
Use Cases
Content creators typically don't limit themselves to one type of content. Fortunately, Descript is for creators who want to do everything using advanced AI technology.
Make explainer videos with Descript's Greenscreen feature.
Podcasters who want to edit their audio and have a video recording of it for social media posts
Live streamers who want to create highlight reels of their streams
Anyone who wants to edit and produce professional-quality videos without spending hours learning video editing software
Descript Cons
Limited video editing features compared to other AI video editors.
A very limited free plan.
Audio transcription can be fairly inaccurate at times.
Veed.io
Like many other AI video editing software, Veed.io uses basic video editing features with AI technology on the backend. Veed.io simplifies video editing software for beginners and experienced users with a user-friendly design. It's a simple and easy-to-understand style, close to that of many beginner video editors.
Regardless of your subscription tier, the interface is a constant presence. Creators with lower subscriptions can only use specific tools. Users can create and edit videos in one location.
They can also use AI to add subtitles automatically. Additionally, they can transcribe audio and improve the experience with auto-generated subtitles. Veed.io even provides endless, free resources for growing your audience with videos and tutorials for times you might feel lost.
Key Features
Eye Tracking Software: No matter how subtle you are, you can still notice when someone's eyes wander off the screen. You can use an AI-powered instant eye tracker to direct your gaze toward the camera while reading scripts seamlessly.
AI Video Script Generator: You can generate compelling video scripts from text prompts using VEED's powerful AI script generator. The AI software provides a video script; you can create scenes using their video editor.
AI TTS Tool: Instead of using text-to-speech tools, you can narrate your story with an AI-powered speech tool.
Pricing
Veed.io offers a more affordable subscription for those on a budget than other AI video editing tools. Users can choose between five pricing options, but we would use the Pro or the Business option. You'll get the most value and bandwidth to scale your content creation workflow.
Basic: $18/mo per user
Pro: $30/mo per user
Business: $59/mo per user
Enterprise: Custom pricing
Use Cases
Translation: Veed.io has AI tools that assist you with translating, making expanding your audience easier and more cost-effective.
Social Media Content Creation: This is your best bet for quickly creating AI social media videos for your brand.
Training and e-Learining: Create and edit videos that help train your employees or students.
Short Films: The AI technology in the script generator makes developing ideas for short films easier.
Veed.io Cons
Less advanced features compared to other AI video editors make it more challenging to create complex videos.
Using personal videos and audio files slows down the software and affects its performance. However, using the platform's pre-made videos won't cause these issues.
Wisecut
With its vast and diverse user base, YouTube is an outstanding platform for creators to share their content with a global audience. The platform constantly evolves, introducing features that cater to the ever-changing digital landscape and consumer preferences. YouTube Shorts is the fastest-growing, short-form video experience for artists who want to shoot catchy videos using their mobile phones.
YouTube Shorts offers business owners, freelancers, and creators many opportunities to engage with their target audience. This feature provides vast possibilities, from showcasing product usage to sharing DIY hacks. Shorts also work for creating engaging tutorials to deliver impactful messages.
Small businesses should use YouTube Shorts, but anyone can use this quick video creation feature. Use Wisecut to easily edit long videos into shorter, well-edited clips with AI technology. You can select the best parts of your videos and delete any unnecessary footage.
Editors can utilize the "punch in" and "punch out" features. Moreover, it trims lengthy pauses from your videos, streamlining your editing.
Key Features
Auto-Cut Silences: Wisecut uses advanced AI and Facial Recognition to eliminate prolonged video pauses, enhancing overall organic rhythm.
Auto Subtitles and Translations: The AI technology automatically translates and offers subtitles, reducing the effort to create captions.
Smart Background Music: Wisecut automatically selects the perfect song for your video and adjusts the music to fit it perfectly. Their tracks are pre-cleared, so you can monetize content on your YouTube channel without issues.
Storyboard-Based Video Editing: Wisecut creates a storyboard from your speech. Edit videos easily by moving text and scenes without editing skills in keyframes.
Pricing
Wisecut offers a free, get-to-know Wisecut plan, but the paid plans provide better features and storage options. But the Professional plan is the best option. The pricing plans are as follows:
Starter: $10/mo
Professional: $29/mo
Use Cases
Short-form Content: Wisecut creates engaging and polished short-form videos for social media platforms like YouTube Shorts, TikTok, and Instagram.
Marketing Videos: Easily create quick, eye-catching marketing campaigns using AI-powered text-to-speech tools and automatic subtitles.
Educational Videos: Wisecut's storyboard-based video editing makes it easier to create informative, educational videos for e-learning or training purposes.
UGC Content: Use Wisecut for interviews, reviews, or event recaps by quickly editing and trimming raw footage.
Wisecut Cons
Limited storage in the free plan makes saving and editing multiple videos difficult while learning the software.
The AI may not always select the best background music, requiring manual adjustments.
Benefits of Using AI Video Editing Tools
Time-saving: AI video editing tools automate many tasks, like color correction and audio editing, saving users valuable time and effort.
Accessibility: AI video editing tools assist professional video editors, making editing more accessible for those without extensive knowledge or experience.
Cost-effective: AI video editing tools can save businesses and individuals money, so hiring a professional video editor is unnecessary.
Scalability: AI tools can help companies scale their video production by automating time-consuming tasks to produce more in less time.
Final Thoughts
AI video editing tools continue to change how professionals edit videos, making the process more efficient and accessible. These tools have features like automatic color correction, suggested edits, and video creation, which save users time and effort. To make viral videos, video editors should use AI editing tools in their workflow.
We can expect more advanced AI video editing tools, with automatic storyboarding, advanced object tracking, and even AI-driven special effects. As AI technology evolves, the possibilities for video editing are virtually limitless. So why not try Wisecut or any other AI video editing tool and see how it can enhance your editing process?
With the rise of YouTube Shorts, there has never been a better time to dive into AI video editing. We've got you covered if you're interested in keeping up with the latest news and trends in AI. Check out our blog for in-depth info on this revolutionary technology.